FSS: Family Self Sufficiency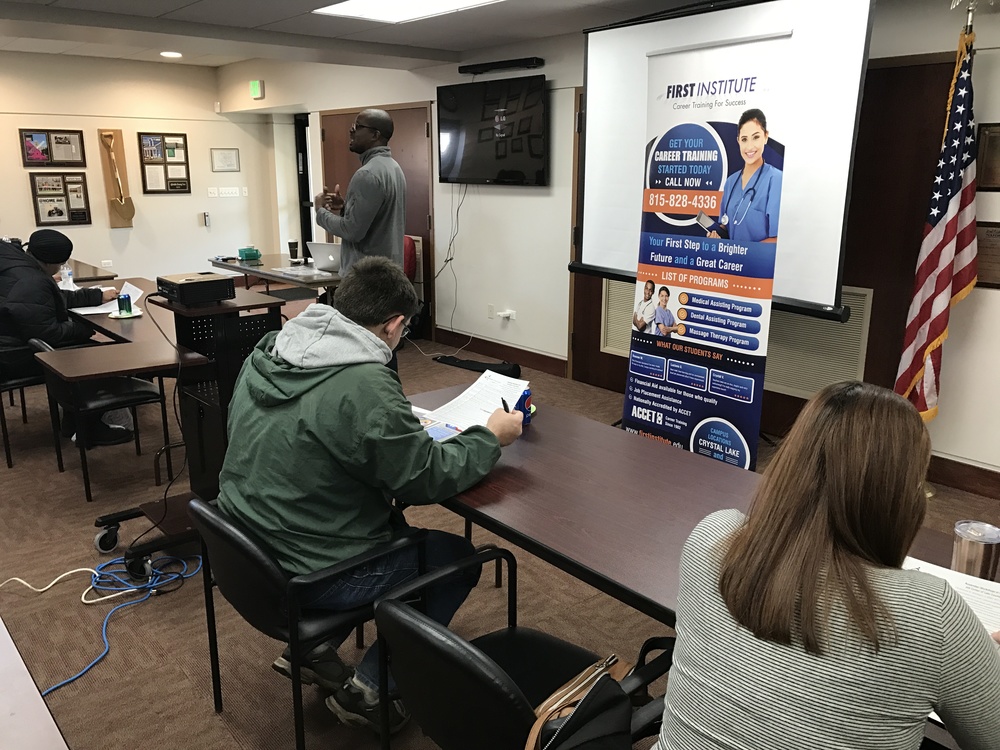 Career Goals | Financial Management | Educational Goals
---

The Family Self-Sufficiency (FSS) program of Lake County Housing Authority is an employment and savings incentive program for low-income families using a Section 8 Housing Choice Voucher. The FSS program was first enacted in 1990. The program offers case management services to help participants pursue and maintain employment and financial independence. An incentive component of the program includes an escrow savings account into which Lake County Housing Authority deposits a portion of the increased rental charges that a family pays as its income from earnings rise. Families that successfully complete the FSS program by reaching their goals, may graduate from the program and withdraw the funds from the FSS escrow account after the successful completion of their five-year contract. Families do not have to give up their Section 8 Housing Choice Voucher to complete the program and withdraw the escrow money.
Successful Graduate "VR" received $3,692.52. She says…
"At first, it was all about the money but as I go further into the program, The FSS Managers got me focused!"
---
Check Out Our Quarterly Newsletter!
---
Attend An Informational Session To Enroll
---
How will the FSS program help me become self-sufficient?
You will meet with an FSS case manager to discuss the goals you have for achieving self-sufficiency. With your case manager, you will develop an Individual Training and Services Plan. Your Individual Plan will detail what you want to do and how you will get there. For example, you might want to become a Certified Nursing Assistant (CNA) or a physical therapist or a day care provider or a teacher. You and your case manager will complete a written plan on what steps you need to take and what resources are available to help you achieve your goals. You will also set target deadlines for each interim goal. The plan may include training, education, job readiness skills, budget planning, counseling, or obtaining childcare or transportation. Your case manager will help you find services through referrals to community providers. You will most likely have to work hard to fulfill your goals. You will need to keep in contact with your case manager and provide documentation or information that you are making progress on your goals.
Your Individual Training and Services Plan becomes part of a contract you sign with Lake County Housing Authority. HUD requires the Contract and Plan. The initial term of the contract is five years. It may be extended for an additional two years however the reason for the extension must be caused by something that was beyond the control of the family. Two examples of reasons for granting an extension would be serious illness or involuntary loss of employment.
All Individual Training and Service Plans must include two HUD required goals. The Head of the Household must commit to seek and maintain suitable employment and no member of the household may receive public assistance payments for the 12 consecutive months prior to completion of the contract. There is no minimum employment period.
Tell me more about the escrow savings account.
As you work to fulfill your goals towards self-sufficiency, it's hopeful that your earned income will increase. When your earned income increases, your portion of your rent increases as well. An FSS participant pays the increased rent but Lake County Housing Authority deposits an amount equal (or close) to the increased rent in an FSS escrow account each month. Each time your earned income changes and your rent changes, the escrow amount to be deposited is recalculated using a HUD worksheet. This escrow savings account can help you get ahead financially when you graduate from the program. How much is put into your account depends on what you were paying when you first came into the FSS program so it is to your advantage to join the FSS program early before you increase your earned income.
When you complete the goals of your Individual Training and Services Plan and fulfill your contract, you will be eligible to graduate and receive the escrowed savings. You must be employed and you must provide written certification that no one in your household is receiving welfare benefits. For the purposes of this contract HUD defines "welfare assistance" as "only cash maintenance payment designed to meet a family's ongoing basic needs." This means that receiving assistance such as food stamps, counseling, case management, health care, childcare, and transportation will not prevent you from fulfilling your contract and receiving the escrow money.
Occasionally, someone in the FSS Program will need to request an early payout of a portion of their escrowed funds in order to meet their interim goals. You may submit a written request to access some of the funds but it must be used only to assist you in meeting your goals and it must be paid directly to the provider of the service. Childcare expenses are not an approved expense to withdraw escrowed funds because you are already given a childcare allowance. The same is true for utility costs. Your case manager will determine your eligibility for an interim payout. Early disbursal of escrow funds is totally at the discretion of the Housing Authority. You must have fulfilled some of your established interim goals and be in good standing with the FSS program. If you owe money to the Housing Authority, you will not be eligible to receive a payout from your escrow account. Some examples of situations for which escrow funds might be disbursed early might include: car repair for transportation to work, college tuition or job training funds, or start up expenses for a small business. You obviously cannot have access to escrow funds for early disbursal if you do not have any funds in your account.
When I complete the FSS Program do I have to give up my voucher and do I have to use the money from the escrow account to buy a house?
You do not have to give up your voucher when you graduate from the FSS program. When you successfully complete your contract and are given the escrow money you may use the money for whatever you want. Many graduates use the money for a down payment on a home but that is not required. Lake County Housing Authority has a housing counselor to assist you if you would like to be a homeowner. You can meet with the housing counselor before you graduate from FSS to begin planning to purchase a home if you choose.
What happens if I earn so much money that I'm no longer eligible to receive a voucher?
If your share of the rent is equal to or exceeds the fair market rent of your size unit, then you are considered to have successfully completed the program and you will be entitled to your escrowed money as long as no household member is receiving welfare as defined by FSS standards. In this situation, the 12 consecutive month requirement does not apply. You are not obligated to complete the other goals in your plan.
What happens if I'm having trouble completing the goals in my Individual Training and Service Plan and I can't successfully complete the FSS program?
If you find you are having trouble meeting the goals on your plan, you should meet with your case manager to talk about what barriers are keeping you from your goals. You and your case manager may be able to find additional resources or referrals or you may revise your plan, if appropriate. If the problems that kept you from making progress on your plan were beyond your control, you may ask for an extension to give you more time to reach your goals.
The FSS Contract will be terminated if your voucher assistance is terminated in accordance with HUD requirements. You also may withdraw from the Program at any time. If you are not working towards your goals, the Case Manager may terminate you from the program for non-compliance. If you disagree with being terminated from the FSS Program, you may ask for reconsideration.
If you do not successfully complete your Plan or you are terminated from the program, the FSS Contract will terminate and any money in the escrow account will no longer be available to you. Remember that if you had not joined the FSS program in the first place, the increased rent money would not be available to you anyway. While it would be disappointing, you have not lost anything by joining the program. Should you successfully complete the program but you owe money to the Authority, the amount owed will be deducted from your escrowed funds before the balance paid to you.
Please give me an example of how the escrow account works?
The escrow deposit amount is determined by a HUD formula. There are some detailed rules but a simplified example is as follows:
For the purposes of this example, let's assume that at the time of enrollment a participant's Total Tenant Payment (TTP) is $100.00. Let's say she attend school the first year so she doesn't increase her earnings and therefore gets no escrow saving account deposits the first year. The following year she gets a job resulting in an increase in her earned income and a resulting increased TTP of $300.00 each month. She will pay her increased payment of $300.00 but the Housing Authority will put $200.00 into her escrow account each month. The $200.00 deposit is calculated by subtracting the initial TTP from the current TTP ($300-$100=$200). At the end of one year, she has $2,400 in her account. Suppose she then gets a promotion and/or increases her hours and/or gets a raise causing her TTP to become $400.00 each month. She pays the increased rent amount and the Housing Authority now puts $300.00 in her account each month. At the end of the third year, she now has a total of $6,000 in her escrow account. If she continued to work at this job, even if she received no further raises or promotions she would have $13,200 in her account at the end of the five year contract.
The escrow is based on the TTP changes resulting from increases in earned income compared to the TTP when first enrolling in FSS. There is no escrow credit if current TTP is less than the TTP was when the contract was signed. Increases in income that are not earned income (such as child support or welfare) do not result in an escrow credit.
What if someone else in my household gets a job and earns more thereby increasing our portion of the rent?
All increases in the family's earned income are included in the escrow calculation. For example, suppose a full time employed family member turns 18 and is not a full time student so his or her income is included, then the difference would be included in the escrow calculation also. Or, suppose an adult relative comes to live with the family then his or her income would be considered for rent calculation, thereby any of their earned income would also be included in the escrow calculation.
What if I want to move to another Housing Authority jurisdiction, may I take my escrow money with me?
You may apply to be in the FSS program at the receiving Public Housing Authority. Not all Housing Authorities have FSS Programs. Even if they have an FSS Program, they are not obligated to accept you into their FSS program. If they accept you, they will enter into a new contract of participation for the time remaining in your initial contract. If they do not accept you into their FSS program, you must demonstrate to your Lake County Case Manager that you will be able to fulfill your contact obligations under your initial or a modified contract at your new location. This can usually only be accomplished if the new Housing Authority is close in proximity to Lake County. Lake County Housing Authority will maintain the FSS escrow account until/unless the receiving Public Housing Authority absorbs your family and accepts you into their FSS program. At that time, Lake County Housing Authority will transfer your FSS account to the receiving Public Housing Authority.
How do I apply and sign up for the program?
Contact Family Self Sufficiency Manager Damon Coleman 847-223-1170 ext. 2650; Felipe Cortez 847-223-1170 ext. 2020; Yanitza Delgado 847-223-1170 ext. 2160 or Jelena Milunovic 847-223-1170 ext. 2520. Ask that you be included in the next FSS informational session. At the Informational Session, you will hear about the program and be given an opportunity to apply by filling out the Family Self-Sufficiency Assessment form. When that form is completed and received by Lake County Housing Authority, you will be placed on a waiting list. The rules state that in order to enroll in the FSS Program you must have had an income recertification within the past 120 days. If you have not had a recertification within 120 days, you may have to wait to join the program until after your next recertification. The FSS Case Manager will contact you for an appointment to review your assessment with you and develop your Individual Training and Services Plan and Contract. You will be enrolled on the first day of the month after the contract is signed. Remember there is more to the program than just the escrow account. Setting goals for yourself with target deadlines and working together with your case manager to reach those goals will help you achieve the self-sufficiency you are striving for.